I've been in a little bit of a funk lately, so on Saturday, I decided to do something about it.
First, I headed to
Dance Trance
for my usual Saturday sweat fest. I have been seriously dragging arse in Dance Trance for the last few weeks, and there have been times where I've stared at the clock, silently willing it to move faster. Not this week: I felt awesome the whole class, almost like I was a normal person. It was fantastic.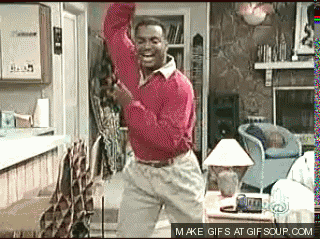 Not only did I get through dance class, but I also went to the mall. Momma always told me shopping could cure a bad mood.
The purpose of my trip was two-fold: to suck it up (well, not really - that hurts now) and buy a knock-off Bella Band, and to get my free Godiva chocolate of the month. Sure, the salespeople give you a dirty look when you pick up the chocolate and don't buy anything, but I can handle it. Please, I get nasty glares during depositions all day long - they're gonna have to try harder than that to guilt me into buying anything. Plus, you always get a sample when you walk in, so that's really two free pieces of chocolate for the cost of none.
My last stop was Victoria's Secret for their annual sale. Yes, I once jokingly asked salesperson if I got a discount for being named Victoria. They didn't laugh. Anyway, am I the only one who still gets worried they'll get "busted" for shopping at Vicky's? I
still
get nervous that I'll be seen pawing through the clearance granny panties by someone I know. No one needs to know how much cotton is needed to cover my rear end.
After the mall, J and I had our hot Saturday night date plans: Kobe Steakhouse and a movie. I don't think I got enough to eat.
So I ordered more food when I got to the movie. Did you know AMC now puts calorie counts on their menus? A small popcorn has 400 calories. Ouch. But not as bad as a side of nacho cheese: that will cost you 700 calories.
J and I saw "Rock of Ages." Both of us wanted to leave 3/4 of the way through. Julianne Hough sings like she's got cotton candy in her mouth, and she's in 80 per cent of the movie. Heaven help my ears. I almost used Junior Mints as earplugs.
If that weren't enough wild and crazy fun for you, I ran three miles on Sunday morning with a few girls from my running group.
We ran a super easy pace, and it felt awesome. I'm trying to bribe them to run on Sundays by bringing icy pops. You know you want one after you run.
My last stop of the weekend was Father's Day dinner with my in-laws. J had this delicious concoction.
As you can see, he was pretty excited. I was excited for him. Not.
When you go to a Mexican restaurant, can you avoid the cheese dip? The answer better be no.